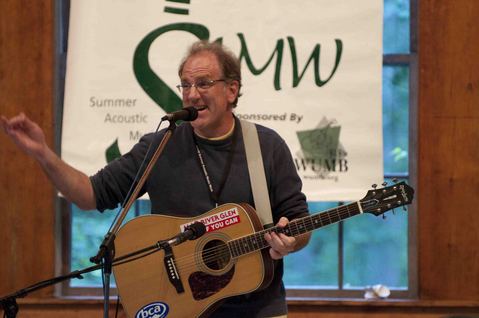 Guitar Player and Telemark Skier
If you want to keep up to date on what Peter Lindholm is doing, you've come to the right place.
Peter is a songwriter, guitar player, and singer based in the Boston, MA area. He is presently working as a solo artist, in addition to playing bluegrass with the
Fort Point Ramblers
, Americana with
Ticket to Nashville
and occasionally blues with
The Sidewinders
.
Peter has played in several bands over the years, including the college favorite SeaThru, the seminal post-punk band Squid Squad, and the 80s power trio Food Phone Gas Lodging (see the player app below for sound bytes from the old days!).
Influences as diverse as Freddie King, Lowell George, Ry Cooder, and Trey Anastasio have shaped Peter's musical style into a "blues-alt country americana jam band" groove. Attending WUMB's Summer Acoustic Music Week in 2009 was a watershed event, instigating a year long immersion in acoustic guitar, song-writing, and solo performance.
In 2013, stay tuned for something new from Peter and friends. Here's a taste:
load the container